BERKOSTAGE is a small group of creative types who get a kick out of putting on shows. We started with The Complete Works of William Shakespeare (abridged) by the Reduced Shakespeare Company which played to a sold out house at Berkhamsted Civic Centre. We followed up with a Comedy Night featuring Susan Earl and Samantha Baines. Our latest production was the Holiday Hee-Haw – a Christmas comedy sketch show with live music from Streams of Brandy and Black Cat Magic. Our next adventure is bubbling CAULDRON.
MELLI MARIE BOND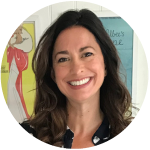 Melli is a an actress, voice artist, choreographer, and theatre practitioner. She is the Co-founder and Creative Director Emeritus of Park Theatre in London. As an actress Melli can be seen often in global television commercials and regularly voicing video games. For Park Theatre Melli curated the theatre seasons, designed and ran the Creative Learning Programme, curated art exhibitions for the gallery space and created Script Accelerator – a programme to support emerging talent. Melli has recently launched Moment In Time at the Vyne Theatre, a monthly creative arts cafe for people affected by dementia and their carers. Melli is now dedicated to providing quality arts and entertainment in Berkhamsted.
MATT RIPPY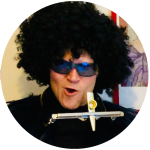 Rippy began putting on performances at a very early age in the living room for family and friends which led to his first public performance at a local theatre called The Country Playhouse at the age of 12. He attended the High School for the Performing and Visual Arts in Houston, TX and was a member of the Alley Repertory Theatre company for three seasons. In 1994 Rippy relocated to England where he later joined the Reduced Shakespeare Company for a record breaking run in the West End. He would go on to perform, develop and direct with the Reduced for the next twenty years. Rippy now sticks mainly to TV, film and radio – and every now and then cranks up BerkoStage for a big show in town.
GEMMA VINE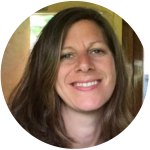 Gemma is super excited to be working with BerkoStage yet again! With 20+ years experience designing and organising bespoke events she just loves conjuring concepts and managing them through to show time. During her previous role launching and operating events at Berkhamsted based Sunnyside Rural Trust she joined forces with BerkoStage to create intimate local shindigs. Previous nights include Comedy Shows, The Reduced Shakespeare Show and the festive Holiday Hee-Haw! Gemma now spends her time looking after two sprogs, a crazy dog, planning the next adventure in her camper van and helping BerkoStage create the ultimate Halloween fundraiser!
ARLO JAMES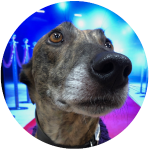 Arlo James (aka A. J. Sackabones) is proud to be the Patron Pooch of BERKOSTAGE. He was born somewhere in Wales around about 2016 and no one but he can say where he was or what he did before finding his home here in Berkhamsted in 2020. All Arlo has revealed is that he resided at Battersea Dogs Home for a spell and chose to move to Berkhamsted to hang with his new found family here in the Hertfordshire Hills – and has never looked back. Arlo's been touted as the next Cover-Dog Model for CQ Magazine. Follow on Instagram @WhatWouldArloDo.