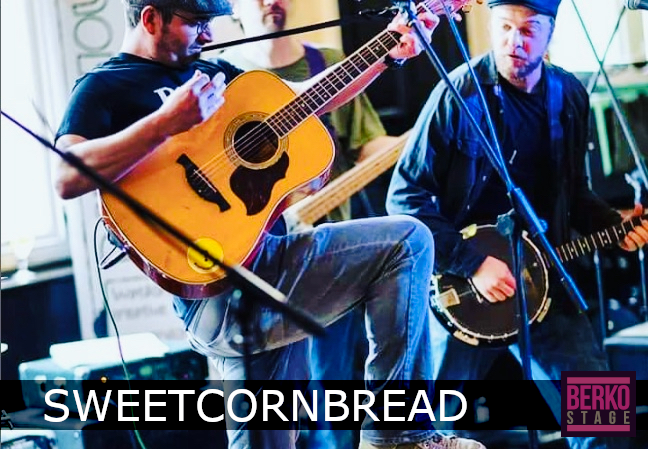 In 2008, from the BACK WOODS and SMOKEY HILLS of Hertfordshire, emerged SWEETCORNBREAD – a ragtag collective of wildly talented musicians – with a TOTALLY UNIQUE sound, fusing elements of  blues, roots, reggae, bluegrass, funk, country rock and punk folk. A HEADY RECIPE indeed! SWEETCORNBREAD is a perfect main course for our bubbling CAULDRON, Saturday 29 October.
SWEETCORNBREAD are a five-piece band featuring guitars, mandolin, banjo, bass, drums/percussion, accordion, and lots of harmonising vocals. Though officially formed in 2008, these guys have been hangin' and playin' together for over twenty years and the core writing duo have been close friends from birth. So it's no surprise the band seamlessly swap instrument and lead-vocal duties whilst blitzing through the breaks and tempo changes of their varied acoustic and electric tracks.
They have been likened to The Band, The Clash and Gomez with songs that can be UPBEAT, HEARTFELT and at times politically CHARGED. SWEETCORNBREAD have proved to enthusiastic festival crowds they have the BEATS to MAKE YOU MOVE and POETRY to make you listen. They have played headlining slots at independent FESTIVALS and events, performed live on BBC Introducing, and had their track 'Fajita' played on 6music's Mixtape. With a mixture of original material and fascinating takes on popular covers, their HIGH-ENERGY FEEL-GOOD vibe is GUARANTEED to get you DANCING! Follow on Instagram, Facebook, YouTube and Soundcloud.
"The shear energy that the boys generate is quite electric" Alex Binder, Plasma TV
"Beautifully crafted lyrics, hooky melodies and great riffs all come together to deliver Sweetcornbread's unique sound." Andrew Wood, onewebmusic
bubbling CAULDRON
Saturday, 29 October, 7 – 11pm
Berkhamsted Civic Centre, 161 High Street HP4 3HB
In Support of Hector's House