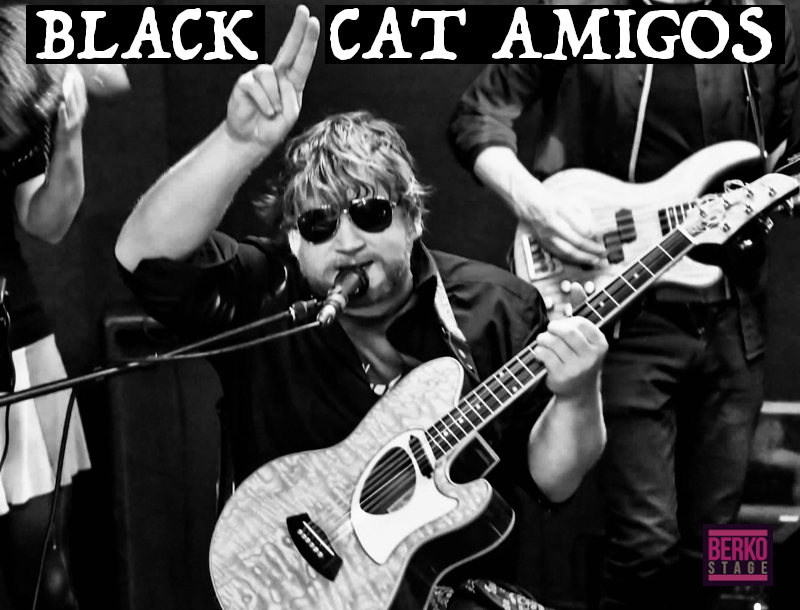 Hell yes – the long awaited and hugely anticipated return of BLACK CAT AMIGOS is happening right here in Berkhamsted at bubbling CAULDRON, Saturday 29 October.
With their origins in SWAMPY, psychedelic, VOODOO BEATS, the BLACK CAT AMIGOS create a sound which is cured in the HEAT of the Californian oilfields and infused with the ROCKIN' RAVE sound of Britain's best FESTIVALS and HOUSE PARTIES.
Home to uniquely TWISTED song writing and rolling JUNGLE RHYTHMS, the band is a true family of musicians whose members have, in the past, played with Marvin Gaye, Viva Santana, Gloria Gaynor, The Ukranians, KC and the Sunshine Band, Pendulum, Planet Funk, Dead Silence, The Levellers, and local lunatics the Amigos. 
They create funk music which has been likened to The Clash, Tom Waits, Alabama 3, Gogol Bordello and Deep Purple on acid. Black Cat have toured the Festival circuit including acclaimed shows at Hackney Music Day, Nifty Garden Party, Somersault, Wilderness, Beautiful Days, Glastonbury and the Curious Yellow Weekend. Onstage they make music like an energized Tarantino soundtrack, with swirling synths, spoken word samples, drum breaks galore, grimy guitar riffs and more hooks than an angler's backpack. Subscribe to Black Cat Amigos YouTube Channel.
"Exhilarating, wild and boasting songwriting that's effortlessly catchy, Black Cat Magic emanate raunch and raw dynamism… in short, they ripped the roof off." Thomas H. Green, Daily Telegraph
"Black Cat Magic are the best advert for original live music I've encountered in the smoke for far too long." Lunacy Magazine
 "Black Cats say normal life is wrong – we say: it's the best show in town." Sniffing Chrome, Brighton
 "Twisted and brilliant song writing." Mark Chadwick, The Levellers
bubbling CAULDRON
Saturday, 29 October, 7 – 11pm
Berkhamsted Civic Centre, 161 High Street HP4 3HB
In Support of Hector's House